ACCOMMONDATION
---
Historic farm for rent
On a beautiful site surrounded by water lies a historic farm with a renovated house. Some of the buildings date back to the late 1700's. Modern kitchen and electric sauna. The house sleeps 6-8 persons. Close to great fishing and hunting grounds.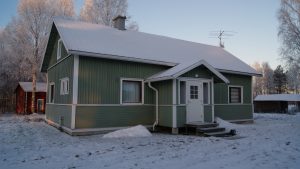 Reservations: Henri Jauhiainen, JJ-Service Inc. Tel. +358 50 353 1897 | ruukinkahvila@gmail.com
---
Fishing hut on a privat island, Lake Haajainen, Jyrkkä.
Spend a night on a privat island in a log cabin that sleeps 3-4 persons. Cabin has a gas stowe and a gas refrigerator and of course sauna. Wilderness and peace at its best. Perfect for fishing in the summer or winter. Easy access to the island on a rowing boat that is included in the rent. The lake has boatramps, so you can also bring your own. In the winter, the island is accessible by walking or snowmobile.
Reservations: Ruukin tupa Tel. +358 45 859 7889 | ruukinkahvila@gmail.com
---
Rooms for rent, Jyrkkä
House by the Lake Kiltua with a large sauna and barbeque shelter close to Ruukin tupa cafe. Rent a room or the whole house. Great place to rest after fishing in the rapids of Jyrkänkoski or one of the lakes near by. Upstairs has 3 bedrooms and a shared kitchen, downstairs 2 bedrooms and a small kitchenette. The house has electricity and running water and 2 clean outhouses.
Reservations: Ruukin tupa Tel. +358 45 859 7889 | ruukinkahvila@gmail.com